Check the Video out at the bottom!
I should have known when Fran said she had a feeling we'll need Dean's truck to transport some of the gear, that this was not going to be a simple day out at Golden Ears Park. So we loaded up Dean's truck up with bbq's, tents and a whole host of brightly coloured weird looking items that wouldn't have looked amiss in a dimly lit shop at the seedier end of East Van. We were on our way, we had a convoy and we were hauling stuff.
Our advanced party arrived at a very quiet Golden Ears at 8am, there was one man and the park ranger. Doug had a word so we found out in which direction the sun would blaze down on us if it made an appearance from behind some iffy looking clouds. It was all hands to the pump now to get everything set up before we were showered with nachos from all directions. We could've made use of a couple of pack horses to move the gear down the slope but we managed, we're runners after all.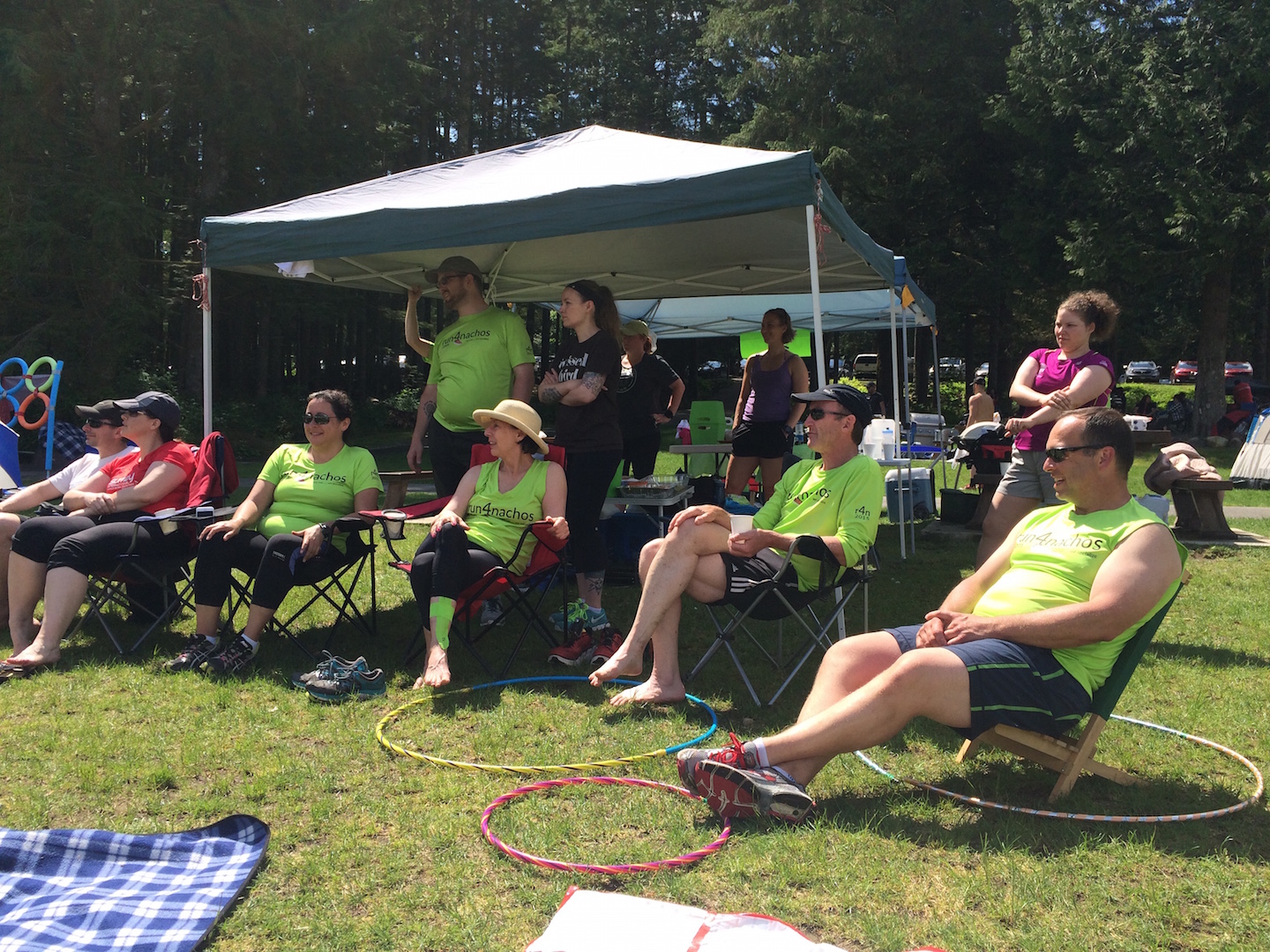 Lime shock shirts started to appear from everywhere, if we all gathered closely together we looked like a giant bowl of kiddies jello. This was happening – the first official run4nachos meet-up. Once the children had settled down Shauna suggested it was time for our run. Seriously mum? There were two run options, really hard or really really hard. Well we're nachos you know, and stupid, so obviously everyone chose the really really hard.
If I were to say that there was a lot of uphill running and climbing I wouldn't be lying. We went up and up and up. There was one climb called 'the incline' that just went up forever and left your legs feeling like cookie dough. Greg and Jen had run up this earlier as they'd taken the really-really-really hard option. Apparently Greg so impressed a random runner with his scaling of 'the incline' that the guy approached him to come and join his 'naked running group'. They run the trails at Golden Ears butt naked very early in the mornings and he thought Greg would be a good addition to their group. I couldn't make this stuff up. Really, he was propositioned! All I can say is, if the rumours are true, Greg if far to qualified to join those tiddlers.
So 14k done and dusted, we were back at base camp and we were starving. The bbq's were fired up as Fran cleverly managed to create 3 big plates of nachos which were devoured.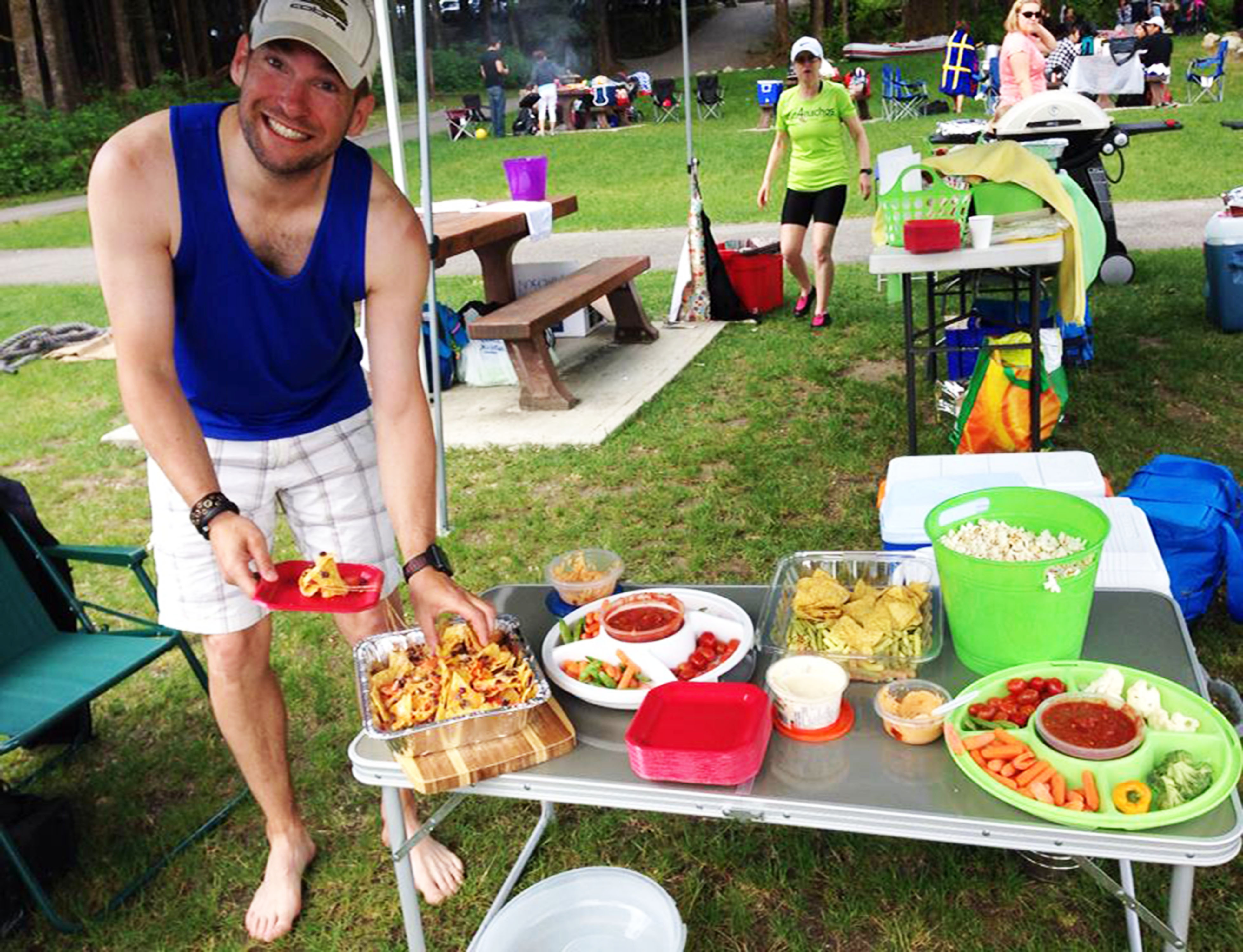 Just then it was like a tap had been opened as thunder roared above us and the heavens opened. Chicken breasts were thrown on the grills as the feeding frenzy continued.
With stomachs full it was party time. The brightly coloured weird looking items were now put to full use as games of all descriptions came out. Of course all you really need to keep the children happy is a bucket of cold water, water pistols and some missiles to throw. It worked. We had fun. Not to mention the sack races and the garden scrabble.
Wow, we had a cracking time. I could go on forever. Just take a look at the video.
Special thanks must go to Fran for all her hard work and preparation, to all of the early morning set up crew and of course Shauna for leading the trail running and bringing us safely back to base camp. Thanks guys … we had a blast!
I've put a bunch of the photos up on the gallery page as well. So check that out and have a laugh. Also take a squiz at the video below (8 mins long) 🙂